Specials of the Month!
All of our specials will be updated on a monthly basis so make sure that you check our website regularly! We will have specials ranging from percentages off of supplies as well as instrument bundle deals.
To get immediate updates regarding our specials make sure that you sign up for our mailing list. Be the first to know our deals and codes!
---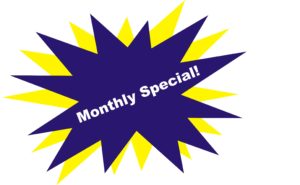 September 2017 Special!
For the month of September we will be offering a bundle deal on our DSC and TGA Instruments. Instrument Specialists is offering a limited time back to school special.
Instrument Specialists values those who continue to strive in the thermal analysis community through the study of thermal analysis. Therefore; to show our appreciation we created our Back to School Bundle! Get both DSC and TGA instruments for the low back to school price by using the code provided below.
This bundle includes:
DSC 600
DSC Thermal Analyzer
DSC Software
Temp  controller
1 year warranty
TGA 1000
TGA Thermal Analyzer
TGA Software
Temp controller
1 year warranty
To get more information regarding these instruments please click the provided links below, or call 1-262-877-3600.
Use Code BTS17
*not vaild on past purchases. Only for the month of September 9-01-2017 to 9-30-2017
---
As always, feel free to contact us with any questions you may have. Our experienced staff is here to help you with all of your Thermal Analysis needs. We are proud to be your partner in Thermal Analysis!
Ph: 1-262-877-3600
Fx: 1-262-877-3699
Email: admin@instrument-specialists.com
Mailing Address:
133 E Main St
Twin Lakes, WI 53181